Get that youthful spark and vitality back
Do you suffer from a chronic, autoimmune disease or is your hormonal health in need for special attention? I will make you feel energised, empowered and back in control of your life by finding a way of eating that you love and that works for YOU – without ever feeling deprived. 
Book your complimentary call with me today!
Are you often stressed, tired or not feeling 100% and too busy to make healthy choices? Is your concentration, mood or energy not as good as it used to be? Do you have any digestive or hormonal issues or would just like to add more spark, glow and vitality? I can help!
Hi, my name is Ania Mason and I work with busy people just like you. Through working with me, you will regain control of your health, and look and feel your personal best. We will achieve this by getting to the root cause of your health issues and create a bespoke dietary and lifestyle plan tailor-made to your individual needs. I would love to support you on your journey to getting more energy and vitality. When you work with me you will learn what your body needs and develop the confidence required to make healthy food and lifestyle choices that work with your daily routine – without ever feeling deprived!
I support clients with various health issues including autoimmune conditions, digestive and hormonal concerns as well as those who are "just not feeling great" and have been putting it down to "getting older". I'm on a mission to spread the word that pain and discomfort isn't just something you have to endure. Let's get you feeling the best ever version of yourself! 
So what's the secret to long lasting energy and keeping sluggishness at bay? Simply follow these 11 fatigue fighters to put a spring back into your step.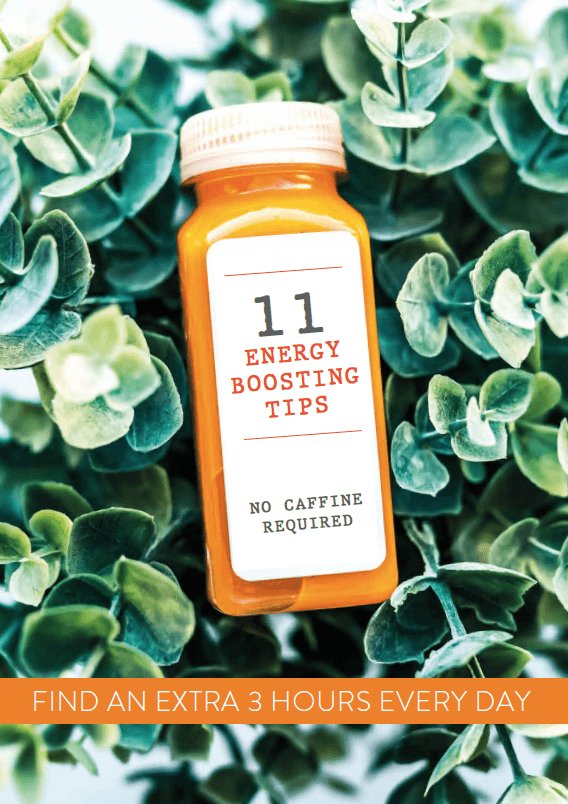 I have been suffering with bloating, indigestion, stomach pain and acid reflux for a long time but despite seeing several specialists and taking several tests, had no idea how to improve my symptoms and what to eat or avoid. I also tried a few diets without any significant improvement. Ania went through my medical history, symptoms and even on my first consultation recommended good and practical advice. As a result I now have a much better understanding of what I can eat and what to avoid. I have learned a lot from her expertise and I am very much impressed with her approach. After implementing an elimination diet I have now reintroduced some foods and really appreciate what I learned from her. I feel much better now and I am very happy with my improvement.
Maria
I was suffering from what I thought were peri-menopause symptoms and was getting even more stressed being dismissed by Dr's and told thats its just a part of life. Not willing to settle for the anxiety, stress, irregular periods, and weight gain I turned to ION and with Ania's expertise and support we managed to balance my hormones by improving my nutrition. I feel a world of difference and am so happy to have made this journey with Ania's guidance and encouragement. I would highly recommend anyone to talk to Ania if you are wanting to improve your physical and mental well being.
Karen
47
I went to Ania for help with my PCOS and issues relating to stress. I was really struggling with dizzy spells and brain fog throughout the day. Ania was kind and thoughtful with regards to my symptoms. She suggested a concise and achievable plan for me, which included meal suggestions and a change in my supplements. She even taught me to enjoy foods that I never thought would be part of my weekly menu. Within a month of following Ania's protocol, I had my first normal period and they have stabilised into regular cycles ever since. My dizzy spells are gone, allowing me to work and look after my family better than ever. I am incredibly grateful for her help and support.
Hannah
39
After several years of regular exercise and what I thought was a healthy well balanced diet, my energy levels and general wellbeing was on the declined... getting old was my diagnosis. After seeing Ania however and the results of the tests she suggested I have done. I now feel like a new man. Turns out I had several food intolerances I never knew about that were causing high levels of inflammation and stress on my body. Ania helped my to eliminate these foods and opened my eyes to a world of alternatives that in many cases I actually enjoy eating more than the originals! And now, thanks to Ania I feel the best I have in the last 10 years!
Rob
47
I had a really bad stroke 3 years ago, after which my health deteriorated severely. Then my carer found Ania and since working with her and getting to the root cause of my health issues, my rheumatoid arthritis and psoriasis are in remission, I haven't had gout flare up since and I have significantly got more movement back to the point that I can go swimming and play badminton again. Ania has also taught me what foods work for me and what foods will battle with each other in my body.
Malcolm
67
I was lacking energy, my emotions were all over the place and I was losing the will to live. I was prescribed antidepressants which I was scared to take and then I saw Ania. She suggested I have my thyroid tested. And this was the big eye opener which saved me from going down the antidepressants route. My doctor was then able to appropriately address my health issues and Ania helped me to support it nutritionally alongside. I am a different person now.
Magda
36